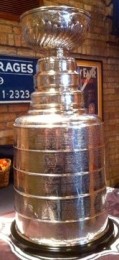 It is a strong word, one that my wife constantly reminds me of when I get stressed out about a new business pitch.  Where is your intention,  She asks?  What is it that you want from this project, or client or new talent?  "You know that if you open yourself up to where this could take you and really visualize what that end result is, it will happen."
I wasn't always a subscriber to this theory, I felt it was too crunchy to apply to my work and how I was going to grow my business.  But a funny thing happened to me this week, I was at a client meeting presenting wireframes and design for a new part of their website.  I looked around the room, the president , CFO and CMO of the company were all gathered around the table listening to me tell them why their site should be organized the way we I had just outlined.  I presented the creative and the design explanation, and then the really amazing thing happened.  The president of the company just looked across the table at me and said, "We love it, great job!  Who's hungry?"
That was it, my moment where clarity and intention met.  I know this isn't a really sexy or maybe inspirational story, but it was my intention to go to this meeting and wow them.  It was my intention to talk about their communication needs over lunch and it was my intention of creating the kind of work environment I have, with the people I like to to work with, doing great work.
Now my intention is to go to bed.
BTW – It was my intention for the Blackhawks to win the Stanley Cup, I'm just saying…
You can leave a response, or trackback from your own site.
Categories: Musings.